In Shermans Travel, editor Anne Roderique-Jones included Errázuriz MAX Chardonnay 2019, Dog Point Vineyard Sauvignon Blanc 2020 and Juvé & Camps Reserva de la Familia Gran Reserva 2017 in a roundup of top summer wines under $30.
Offering praise for the MAX Chardonnay, Roderique-Jones says "You might not always think of Chile when buying a Chardonnay, but this wine from Errazuriz will forever change your mind. Founded more than 150 years ago by Don Maximiano Errazuriz in the foothills of Mount Aconcagua, the rich soil and ocean breezes create outstanding conditions for Chardonnay. This one is bright, fresh, and citrus-y with notes of tropical fruit–and ideal for those who aren't huge fans of super oaky flavors."
After sharing background on Dog Point Vineyard and their "on-site pups" that greet guests, she describes the wine as crisp, citrus-y with "hints of white peach and pear with a grapefruit and lemon finish. If you're looking for a wine to pair with oysters, this is your bottle."
Juvé & Camps Reserva de la Familia Gran Reserva 2017 is recommended for celebrations all summer. The writer speaks to the family-owned estate's 200 year history before saying that "the super light and refreshing bubbly has notes of white fruits followed by hints of fennel, toast, and citrus to create the perfect summer sparkling." Read the full story HERE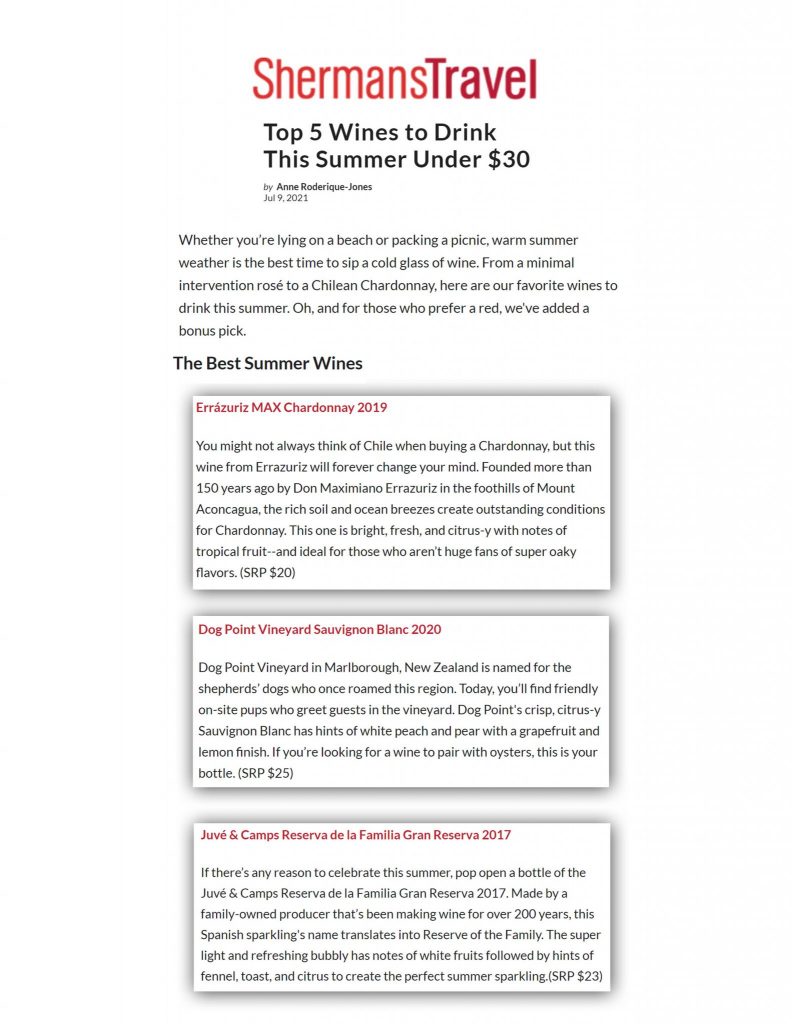 Dog Point Vineyard

Marlborough

Dog Point's Sauvignon Blanc has become the icon in its category, a stainless steel Sauvignon Blanc that pulsates with energy, expressiveness and complexity that push the boundaries of what you may expect from Marlborough Sauvignon Blanc. 

Errázuriz

Aconcagua Costa

One of Francisco Baettig's favorite varietals to work with, year after year MAX Chardonnay is noted for its crispness and lively acidity. The exceptional soils and cool ocean breeze provide optimal conditions for Chardonnay in Errazuriz' coastal vineyards, located just 8 miles from the Pacific. Th­e diverse soils control plant vigor, producing fruit that is balanced yet intensely concentrated, with a beautiful fresh citrus and mineral profile.

Juvé & Camps

Cava

"Reserva de la Familia" (translating to 'Reserve of the Family') is the leading Gran Reserva in the world, always vintage-dated, and all the more notable because of the quality needed to produce it without dosage ('Brut Nature' designation).
Aconcagua Valley, Chile

Errázuriz is recognized as perhaps the single top quality producer of Chilean wines, within recent years alone Eduardo Chadwick, President, named Decanter Man of the Year 2018, and the winery awarded Best Chilean Winery 2017 by Robert Parker's Wine Advocate.

Marlborough, New Zealand

Almost since its inception, Dog Point  has been recognized as among the very top (arguably the very top) wine producers in New Zealand.  Their two very different Sauvignon Blancs, their Pinot Noir, and their Chardonnay are all wines of astounding quality and complexity not just in the context of New Zealand wines, but globally.

Penedès

Juvé & Camps is indisputably the worldwide leader of Gran Reserva Cava. This family-owned, 100% estate-based producer is revered in Spain for its painstaking focus on quality and sustainability, and its important role within the country's conversation on fine wine in general. A winegrowing family for over 200 years, in 1921 Juvé started producing the first sparkling wines under their name. They have been pioneers in the viticulture and production of Cava since then and, today, while Gran Reserva only accounts for 2% of all Cava production, it remains the focus of the estate."