Maxim editor Kaitlyn McInnis recommended Champagne Bollinger Special Cuvée NV as a top wine to celebrate France's "la fête nationale," Bastille Day, with.
Known to charm the crowd or just one person, Bollinger's flagship wine is ideal for any summertime celebration. McInnis adds, "from vineyard to bottling, Champagne Bollinger Special Cuvée is a safe bet. The combination of structure, length, and vivacity results in velvet-like bubbles, notes of pear and fresh walnut, and a slightly spicy aroma that sets this unique Champagne apart from the rest." Read the full story HERE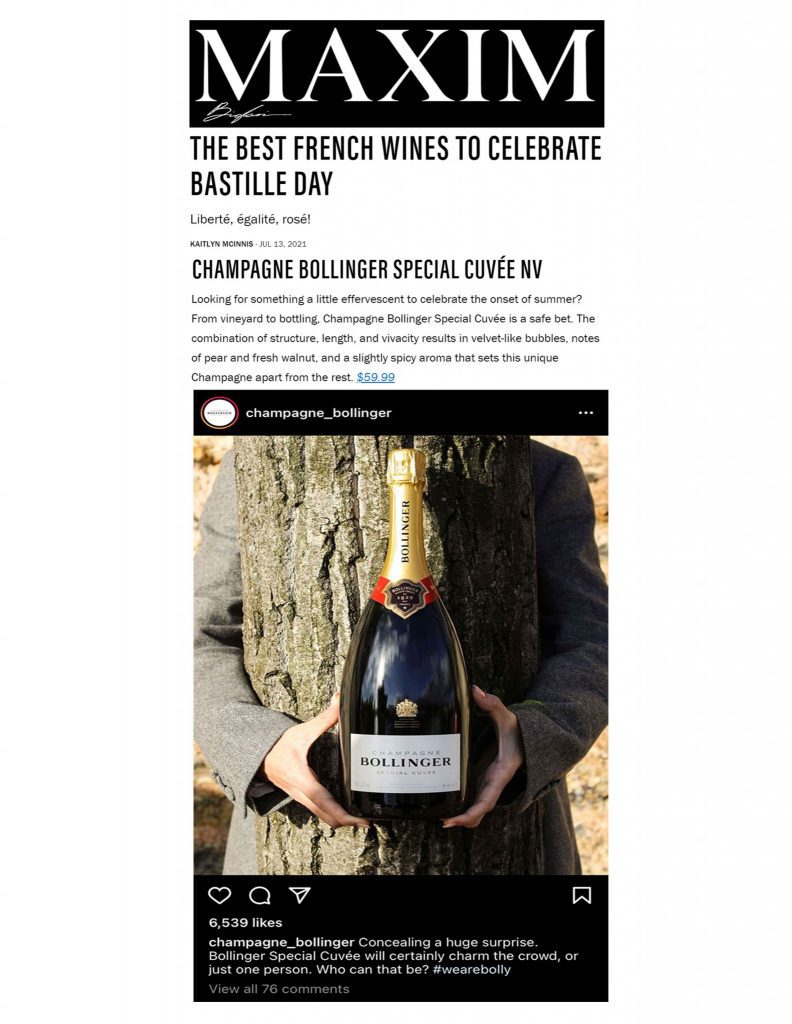 Champagne Bollinger

Champagne, France

From vineyard to bottling, Special Cuvée sees such an extraordinary level of care and attention, it is difficult to place within the non-vintage or, really, any Champagne category. It is a Champagne that stands apart. Within one bottle, all the complexity of flavor, texture and pleasure that Champagne can offer. Special Cuvée is truly a journey of devotion from Bollinger.
Champagne, France

Bollinger is one of the rare Grande Marques that's still family owned. Known for its rich, elegant and polished style of Champagne, their outstanding wines are the result of rigorous attention to detail and incredibly labor-intensive practices that few houses are willing to undertake. Underscoring its excellence, Bollinger has remained British secret agent James Bond's Champagne of choice since 1973.