Winston-Salem Journal wine writer Michael Hastings recommended Errázuriz MAX Chardonnay 2019, Dog Point Vineyard Sauvignon Blanc 2020 and Masseria Surani Fiano 2018 in his latest roundup of wines. Below are his notes on these three standout wines, and the full article can be found HERE
–Errazuriz 2019 Max Chardonnay: "Tropical fruit and citrus, touch of almond, restrained oak, good balance in this well-made, refreshing chard."
–Dog Point Vineyard 2020 Sauvignon Blanc: "Grapefruit, lime, melon. mineral and fresh herbs. Racy acidity."
–Masseria Surani 2018 Fiano: "Floral, bright with a bit of viscosity on the palate, with flavors of honey, orange, peach and apricot."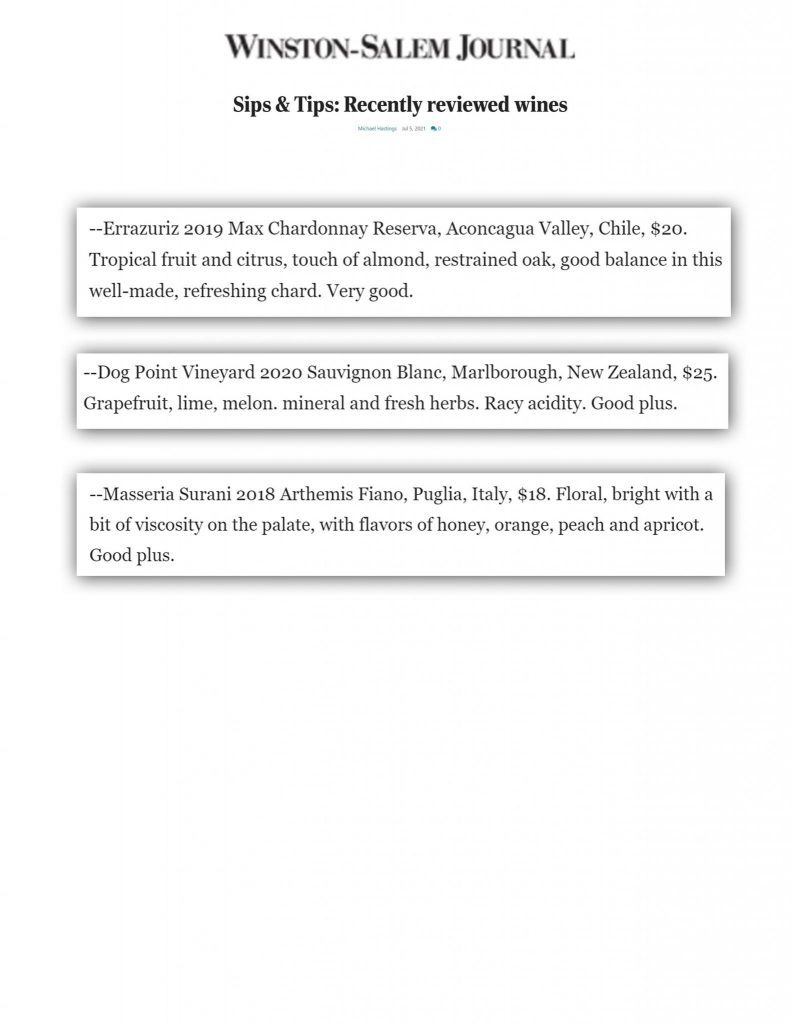 Errázuriz

Aconcagua Costa

One of Francisco Baettig's favorite varietals to work with, year after year MAX Chardonnay is noted for its crispness and lively acidity. The exceptional soils and cool ocean breeze provide optimal conditions for Chardonnay in Errazuriz' coastal vineyards, located just 8 miles from the Pacific. Th­e diverse soils control plant vigor, producing fruit that is balanced yet intensely concentrated, with a beautiful fresh citrus and mineral profile.

Masseria Surani

Fiano Puglia IGT

In keeping with a tribute to the local land, the process that goes into making Fiano is noninvasive and allows the characteristics of the local terroir to shine through. The resulting wine is aromatic, marked by notes of white flowers, tangerine, and lime.

Dog Point Vineyard

Marlborough

Dog Point's Sauvignon Blanc has become the icon in its category, a stainless steel Sauvignon Blanc that pulsates with energy, expressiveness and complexity that push the boundaries of what you may expect from Marlborough Sauvignon Blanc. 
Marlborough, New Zealand

Almost since its inception, Dog Point  has been recognized as among the very top (arguably the very top) wine producers in New Zealand.  Their two very different Sauvignon Blancs, their Pinot Noir, and their Chardonnay are all wines of astounding quality and complexity not just in the context of New Zealand wines, but globally.

Puglia, Italy

Masseria Surani is located in Manduria, one of the most renowned areas in Puglia for the cultivation of the native Primitivo grape. Manduria was first colonized in 700 BC by the ancient Greeks, and Masseria Surani pays homage to the winemaking heritage of the area by producing high quality wines that respect the terroir and tradition of the land on which they are cultivated.

Aconcagua Valley, Chile

Errázuriz is recognized as perhaps the single top quality producer of Chilean wines, within recent years alone Eduardo Chadwick, President, named Decanter Man of the Year 2018, and the winery awarded Best Chilean Winery 2017 by Robert Parker's Wine Advocate.