Upscale Living recommended Champagne Bollinger La Grande Année 2012 as one of the best champagnes to taste this year, and also included a photo of the House's flagship wine Special Cuvée
The writer notes, "Bollinger traces its origins to 1829 when it was founded by Hennequin de Villermont, Paul Renaudin, and Jacques Bollinger. It is a famous champagne house that is also independent. Our choice is the La Grande Année 2012– the second vintage after 2008. This 2012 vintage contains a robust quantity of Pinot Noir which gives it distinct flavors. The 2012 vintage of La Grande Année and La Grande Année Rosé embody what Bollinger stands for and has a creamy/rich layer of texture that filters through. It is surely also a collector's item also." Read the full story HERE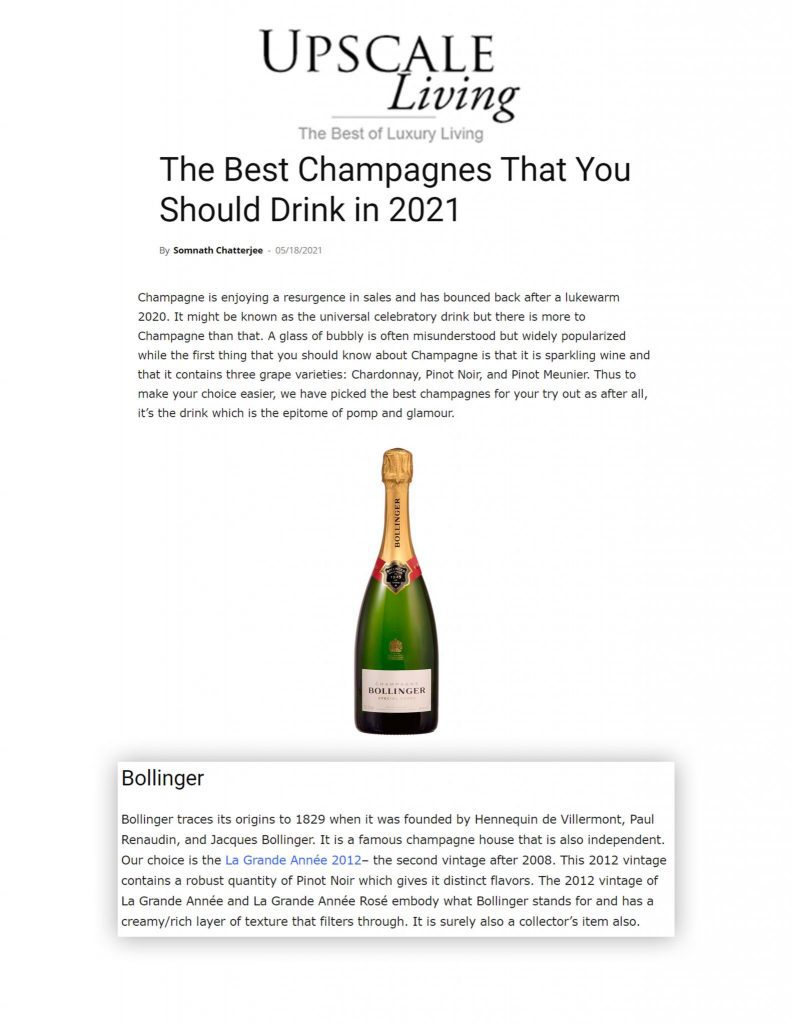 Champagne Bollinger

Champagne, France

La Grande Année: The Great Year. This Champagne is the embodiment of everything that makes Bollinger the producer that stands apart in Champagne. La Grande Année, or LGA, preserves the traditions of the past and symbolizes the word "hand-crafted" so strongly that an overused word suddenly becomes the only appropriate definition.

Champagne Bollinger

Champagne, France

Lily Bollinger agreed to a Bollinger rosé under one condition, it had to be extraordinary, and that is how La Grande Année Rosé was born. A blend like no other, the wine is as an extension to the House's prestige cuvée, La Grande Année, as is the subtle marriage between this great vintage Champagne and the addition of red wine from a unique plot, the legendary Côte aux Enfants.
Champagne, France

Bollinger is one of the rare Grande Marques that's still family owned. Known for its rich, elegant and polished style of Champagne, their outstanding wines are the result of rigorous attention to detail and incredibly labor-intensive practices that few houses are willing to undertake. Underscoring its excellence, Bollinger has remained British secret agent James Bond's Champagne of choice since 1973.