Sevenfifty published a rosé focused feature, where the author spoke with several category thought leaders on how and which brands will continue to succeed, including Château Minuty Brand Director Anthony Cohen.
The piece begins with Cohen's perspective that certain brands "may experience high sales at first as the new product, but as the category matures, the producers that have defined it and have been the essence of it, will ultimately lead it. They have the staying power."
The story offers several additional perspectives, which largely echo Cohen's sentiments. As our market matures, consumers will also begin to distinguish "between Provençal-style rosé and quality Provençal-style rosé." To this, Cohen adds, "I think we will see four phases of rosé appreciation among consumers…People may ask for a glass of rosé at first. Then, they will start to ask for a rosé from a specific place. Then, they will ask for a glass of Provence rosé. Then for a specific brand like Château Minuty."
The piece closes by surmising that at this point, "the U.S. is somewhere between Cohen's third and fourth phase, and as their rosé tastes become more discerning, so will their buying choices." Read the full story HERE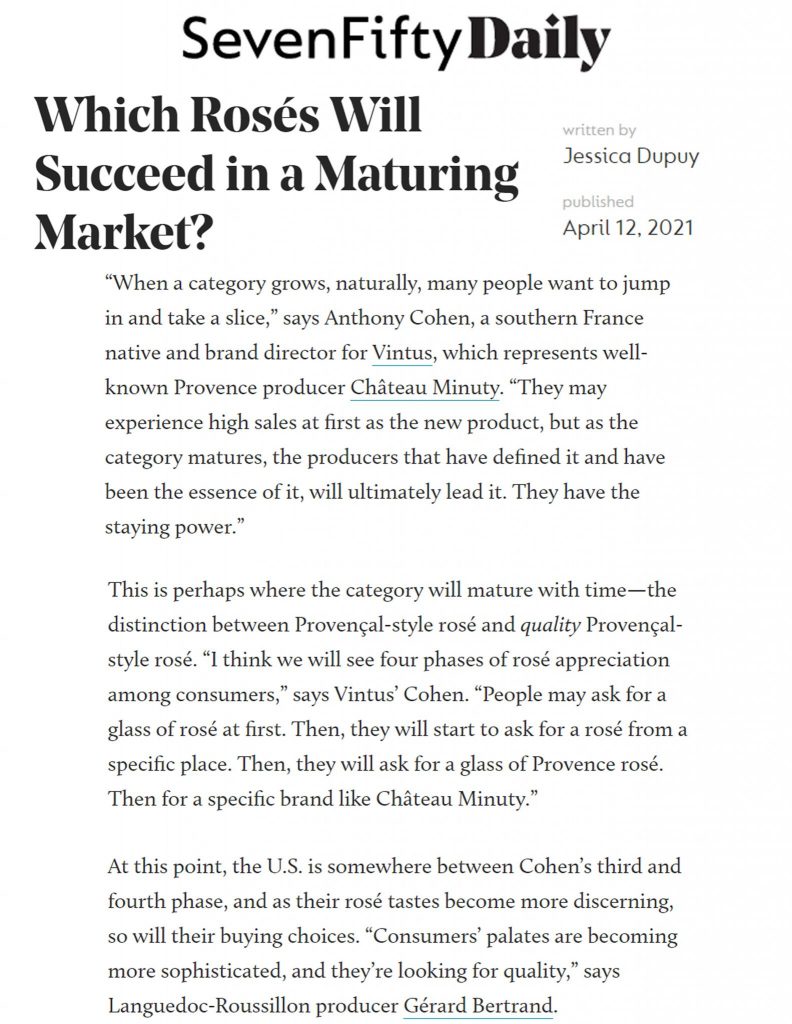 Côtes de Provence

Château Minuty is the global leader in Côtes de Provence rosé, and beyond that it can be argued is the most important estate in the history of Provence rosé. The Saint-Tropez based, family owned estate has been, since its founding, one of the quality leaders for the region. Minuty then became one of the most visible producers in the second half of the 20th century, a result of quality production and commercial foresight when no one in the region could imagine the global phenomenon Provence rosé would become. And then in the last two decades, Minuty defined the vision for and led the unbelievable growth in Provence rosé around the globe.