Honest Cooking selected Champagne Bollinger Special Cuvée and Langlois-Chateau Crémant de Loire Rosé Brut in a roundup of the top sparkling wines to enjoy this winter.
"Special Cuvée is perfect shared among friends, for a simple and meaningful moment," says writer Kalle Bergman. Continuing, he says, "It is the champagne we give to the people we love and who love nice things." The write up notes its unique style and flavor profile, while also suggesting how best to serve it.
The Langlois Crémant is marked by "freshness, fine bubbles and exceptional fruitiness." Bergman writes that it is "an excellent aperitif wine and is ideal for red fruit desserts." Read the full story HERE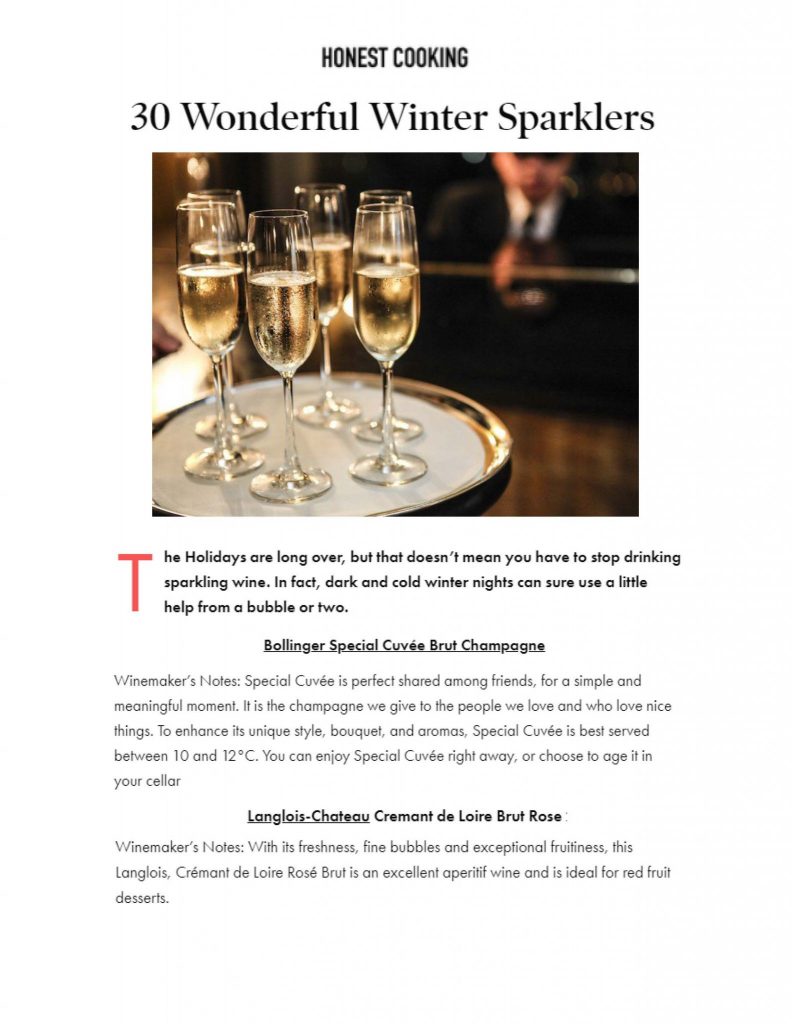 Champagne Bollinger

Champagne, France

From vineyard to bottling, Special Cuvée sees such an extraordinary level of care and attention, it is difficult to place within the non-vintage or, really, any Champagne category. It is a Champagne that stands apart. Within one bottle, all the complexity of flavour, texture and pleasure that Champagne can offer. Special Cuvée is truly a journey of devotion from Bollinger.

Langlois-Chateau

Loire Valley, France

Crémant de Loire Brut Rosé NV is a blend of 70% Cabernet Franc and 30% Pinot Noir. This bright and juicy Crémant is hand crafted with the same process and attention to detail as the best Champagne, with only the first pressed ("cuvée") juice used and 18 months aging on the lees to preserve freshness and color. The beautiful color is achieved from a 12-15 hour skin contact.
Champagne, France

Bollinger is one of the rare Grande Marques that's still family owned. Known for its rich, elegant and polished style of Champagne, their outstanding wines are the result of rigorous attention to detail and incredibly labor-intensive practices that few houses are willing to undertake. Underscoring its excellence, Bollinger has remained British secret agent James Bond's Champagne of choice since 1973.

Loire Valley, France

Langlois-Chateau has a rich history as one of the leading producers in the Loire Valley. Their Cremants are produced with standards far beyond the appellation requirements and even beyond Champagne AOC standards. The result is Méthode Champenoise wines of incredible finesse. The still Sancerres are equally notable and are benchmarks for the appellation, with brightness, intensity, depth and minerality.