The Hype Magazine included Gary Farrell Winery in a story about wine-related discoveries this month – in terms of new wines or industry developments.
The write up explains, "the Gary Farrell Winery, as based in the Russian River Valley, is one of California's most accomplished wineries for high-end, small-lot Pinot Noirs and Chardonnays. Its Gary Farrell 2017 Pinot Noir, Hallberg Vineyard, Russian River Valley — priced at $55 per bottle — is a lush Pinot which comes from a premier vineyard in the cool-climate Green Valley sub-appellation of Russian River. It has both a beautiful intensity and complexity. Also acclaimed from the Gary Farrell team is its 2017 Chardonnay, Olivet Lane Vineyard, with a retail price of $45, which comes from a famed vineyard that was planted with Chardonnay in 1975."
Read the full story HERE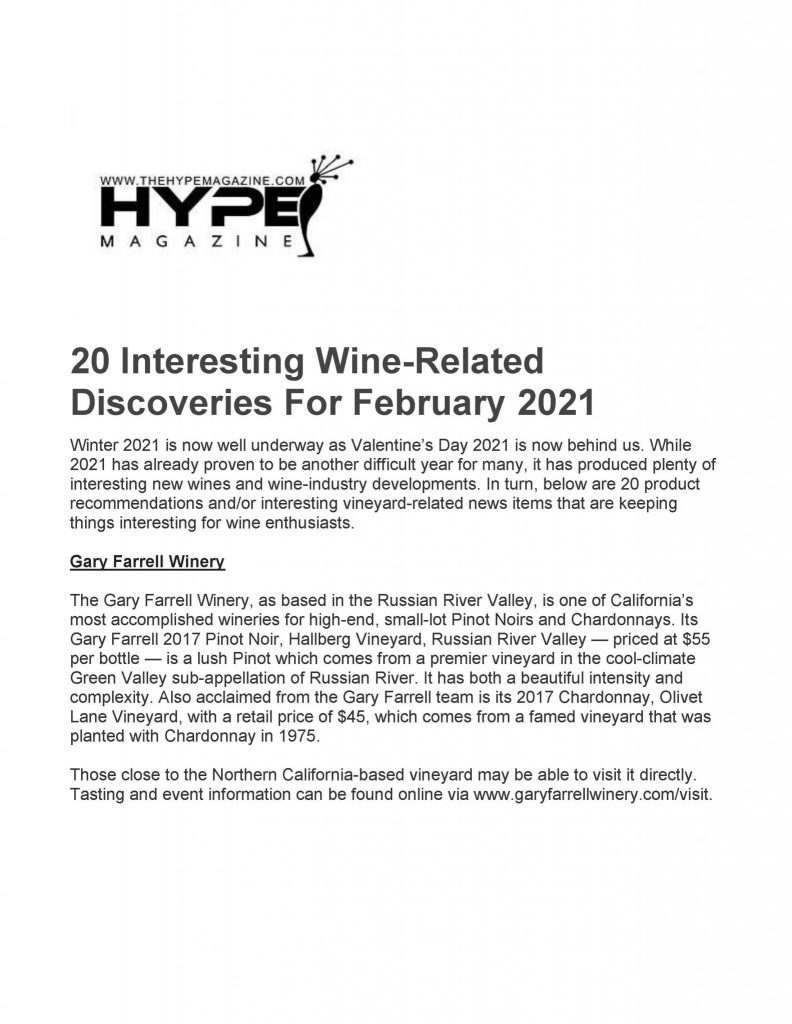 Gary Farrell Winery

Russian River Valley, California

Pellegrini's Olivet Lane Vineyard was planted in 1975 to Wente selection on AXR rootstock. The vineyard sits on 65 acres of sloping bench land in the Santa Rosa Plain, in between the warmer Westside Road region and the cooler Green Valley,where warm summer days are moderated by cool breezes and chilly evening temperatures. The combination of low temperatures, regular fog intrusion and well drained loam, clay soils create an excellent environment for growing Chardonnay that develop cool-climate characteristics and impeccable acid at fairly low sugars.The wines from this vineyard simultaneously express power and finesse, and they do so with tremendous balance. 

Gary Farrell Winery

Russian River Valley, California

Named for its previous owners, the 100-acre Hallberg Vineyard is today owned and managed by wine industry veterans including vineyard manager Kirk Lokka. Nestled in the Green Valley sub-appellation, the site enjoys refreshing daytime breezes and cool nighttime temperatures. The strong marine influence means less severe daily temperature shifts so the vines never completely shut down, producing fruit with deep, dark color, great structure, silky tannins, darker fruit flavors and earthy characteristics. This blend is a composition of many of the best blocks on this cool, foggy vineyard site, which include clones 667, 777, 828, Pommard and a mysterious "suitcase" selection.
Russian River Valley, California

For over 37 years, Gary Farrell Winery has crafted small-lot artisan wines capturing balance and stylistic elegance from some of the finest vineyard sites in the Russian River Valley. In 1985, Winemaker Gary Farrell released his 55 cases of 1982 Rochioli-Allen Pinot Noir to widespread critical acclaim. Since that release, the team at Gary Farrell Winery has consistently focused on rigorous vineyard selection, outstanding grower relationships, and superior quality fruit. For the past 8 years, the current owners have been dedicated to enhancing Gary Farrell's legacy with a single-minded focus on quality.