The Washington Post included E. Guigal Côtes du Rhône Blanc 2018 in the publication's first wine column in 2021. Longtime wine columnist Dave McIntyre selected the Guigal white because it is a perennial favorite from the celebrated Rhone producer, and outstanding quality for the price point.
One of the things we love about the Guigal family's Côtes du Rhône wines is how reliable they are – and McIntyre says the exact same thing in this story, adding that the blanc is also "seductive, flowery and rich." He continues with a bit of additional context, explaining "the blend is a mouthful of grapes: viognier, roussanne, marsanne, clairette, bourboulenc and grenache blanc. It woos you with aromas of jasmine and honeysuckle, then hugs your palate with velvet. Try this with rich seafood or poultry." Read the full column HERE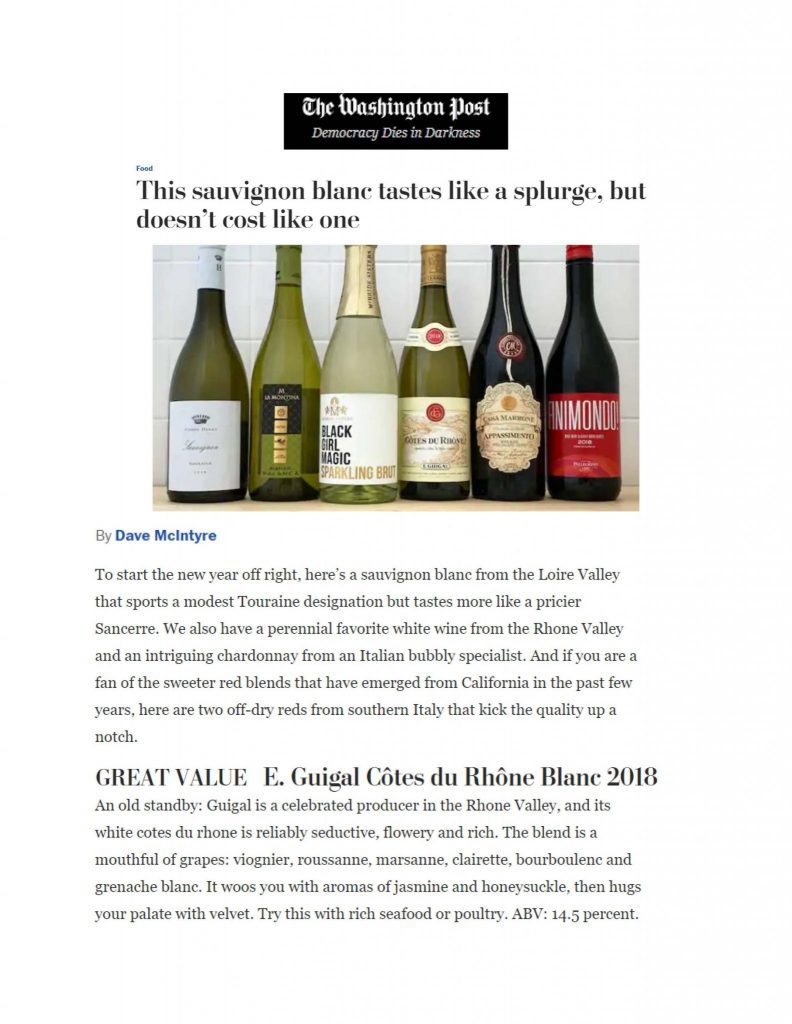 E. Guigal

Côtes du Rhône

Guigal's Côtes du Rhône Blanc both sets and steps outside the standard for the appellation and showcases one of the great secrets of the Guigal family: their specialization in the great white Rhône varieties. While only 8% of the Rhône's production is white, a full 25% of Guigal's production is white and they are today the single largest producer of whites in the Rhône Valley.
Rhône Valley, France

The more you learn about the Guigal family, the more astounding becomes their story.  Their wines are the benchmarks for every Rhone appellation, and over the last thirty years they have become arguably the most lauded producer in the world.  Year after year the Guigal family produces wines of exceptional quality that in all classes offer exceptional value.