James Suckling selected Ponzi Vineyards Avellana Chardonnay 2017 as one of the Top 100 American wines of the year in his annual review. Acknowledging the obstacles and constraints to taste and rate wines this year due to the pandemic, Suckling says "it was worth all the effort and it's exciting to see a broad range of outstanding and superb quality wines offering an array of flavors and character as well as prices from America this year."
Ranked 63 on the list, Ponzi's Avellana Chardonnay is described as "very impressive, pure and lively aromas of fresh lemons on offer here with lemon pastry, stones and a fragrant, spiced-pastry note. The palate has impressive, fleshy appeal and smooth peaches and pears, framed in pastry, spice and grilled cashews. Complex and concentrated. Drink or hold."
Read the full review and overview from the ranking HERE as well as a shortened excerpt below.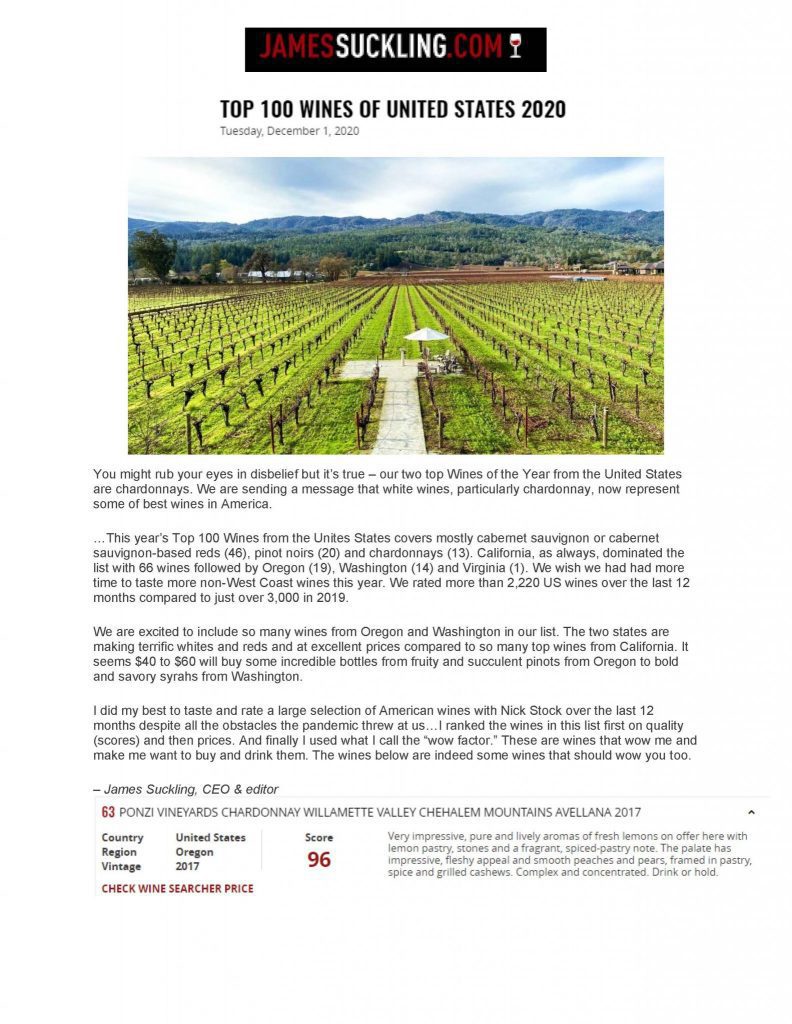 Ponzi Vineyards

Willamette Valley, Oregon

Oregon Chardonnays present an unparalleled combination of bright acidity, texture and freshness of fruit on the mid-palate. Winemaker Luisa Ponzi's goal is to allow the wines to express these characteristics each vintage through single vineyard expressions. The successes at Aurora Vineyard are expressed at this youthful vineyard planted in 2006. The site features a fusion of the right clones and rootstock planted on rich Laurelwood soil. Avellana yields a richer, weightier style Chardonnay as compared to the Aurora single vineyard wine.
Chehalem Mountain AVA, Willamette Valley, Oregon

Dick and Nancy Ponzi helped put Oregon on the map in the United States and the world, and the Ponzi family has worked continuously for over 50 years leading and innovating in the region and, in the case of Pinot Noir, across the country and indeed the world. Today winemaker Luisa Ponzi continues her work of the last 30 years with the family of Champagne Bollinger, which acquired Ponzi Vineyards in 2021.