Following up on their June guide to all things 2019 rosé wines, Review of Washington Wines Blog, posts their new reviews, including the Chateau Minuty 2019 M de Minuty Rosé. The wine received a respectable 18.5/20 points, along with a rave review provided below.
2019 Minuty M de Minuty Rosé – Light copper-pink colored, this possesses attractive aromas of strawberry, white cherry, red currant, tangerine, pink roses, pink lavender and Provencal herbs. The flavors are fresh and lightly extracted, accented by grape skins, cherry stones and gravelly minerals. The back picks up fraise and cerise liqueurs and a twist of tangerine peel, followed by a nicely fruited dry finish. Fine value. 18.5/20 points.
Read the full story HERE.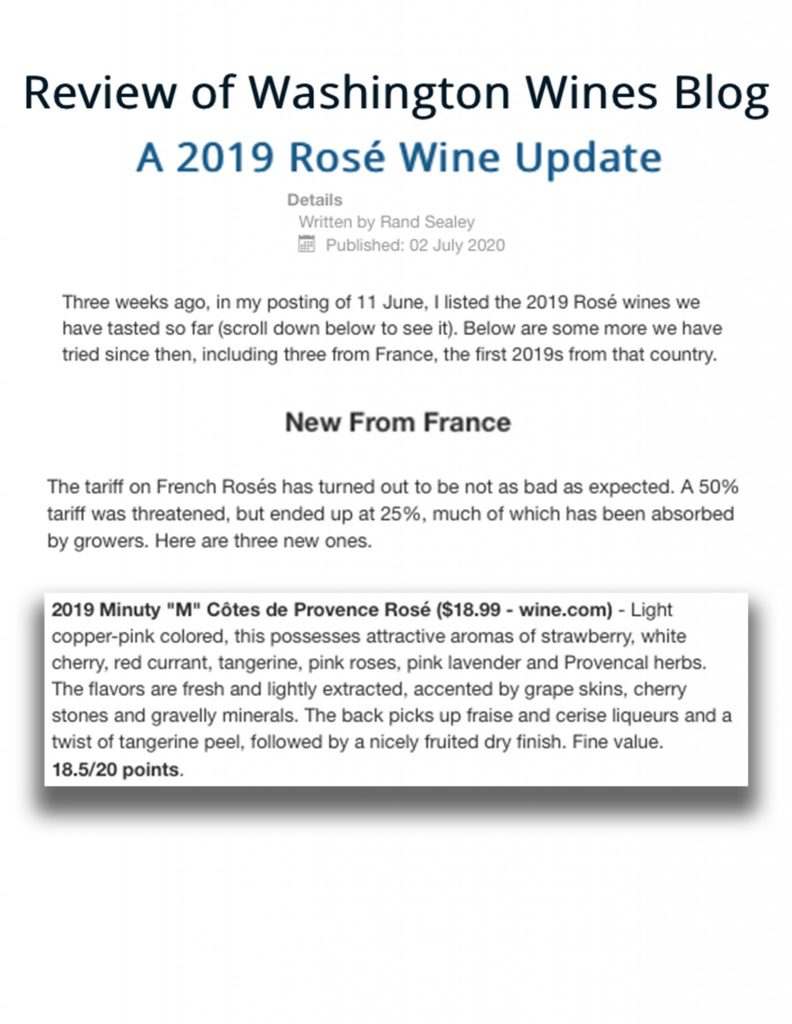 Château Minuty

Côtes de Provence

M de Minuty is the quintessential Côtes de Provence rosé, a style that Chateau Minuty defined,and is the reason behind their success as the world's top producer of premium rosé. Fresh, lively and perfectly balanced, fantastic quality, a glass in hand transports you to the seaside and the French riviera lifestyle, watching the sea and the sky, surrounding yourself with friends and family, and enjoying life to the fullest.
Côtes de Provence

Château Minuty is the global leader in Côtes de Provence rosé, and beyond that it can be argued is the most important estate in the history of Provence rosé. The Saint-Tropez based, family owned estate has been, since its founding, one of the quality leaders for the region. Minuty then became one of the most visible producers in the second half of the 20th century, a result of quality production and commercial foresight when no one in the region could imagine the global phenomenon Provence rosé would become. And then in the last two decades, Minuty defined the vision for and led the unbelievable growth in Provence rosé around the globe.