Wine writer Fredric Koeppel dedicated a full post on his blog, Bigger Than Your Head, discussing rosé – the different styles it can be produced and the level – or lack thereof – of quality to be expected in the pink wine. Despite this, he recommends a small handful of rosé wines to seek out, including Minuty Prestige 2019.
"Extremely pale melon-pink hue; very delicate and ethereal, a petal-like rosé of faint tinges and hints, bound by chiseled and transparent limestone minerality and, on the palate, by scintillating acidity; raspberry and strawberry, a touch of melon sorbet; lime peel and green tea, notes of mimosa flower and green olive. Really lovely. Excellent." Read the full story HERE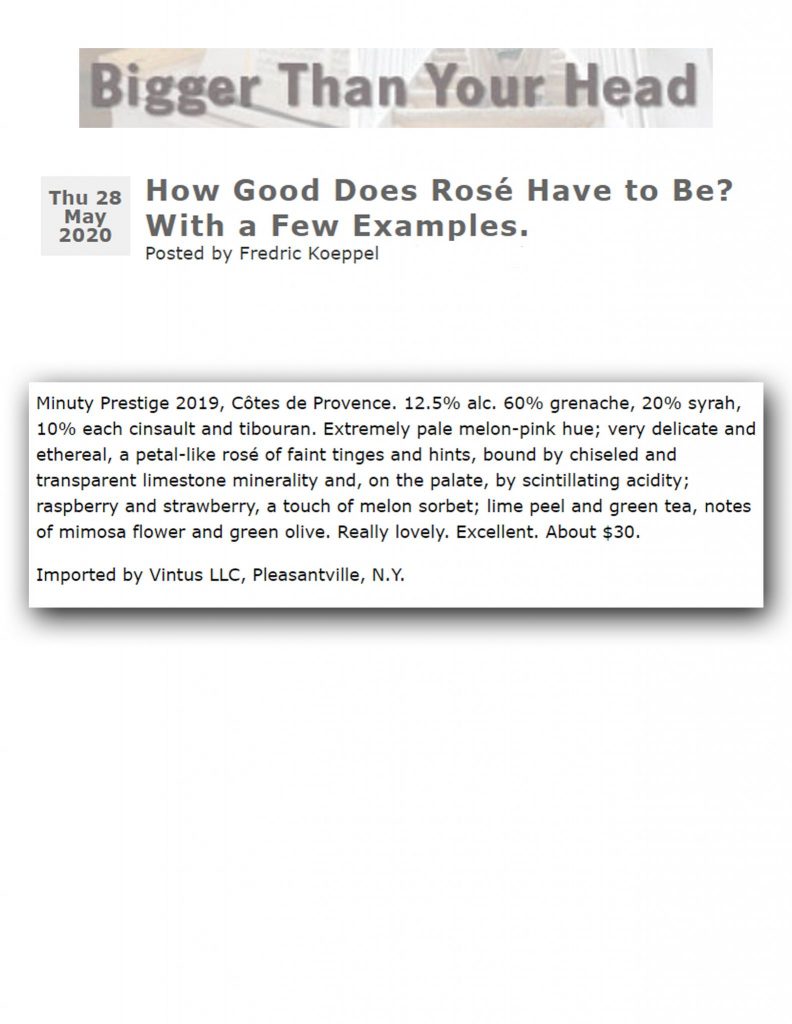 Château Minuty

Côtes de Provence

If you notice just one wine on the beach and seaside restaurants in the south of France, it is almost certainly Minuty Prestige. This wine has become the emblem of the Riviera lifestyle, and it is place that has been earned through the unbelievable dedication to quality by the Minuty family.
Côtes de Provence

Château Minuty is the global leader in Côtes de Provence rosé, and beyond that it can be argued is the most important estate in the history of Provence rosé. The Saint-Tropez based, family owned estate has been, since its founding, one of the quality leaders for the region. Minuty then became one of the most visible producers in the second half of the 20th century, a result of quality production and commercial foresight when no one in the region could imagine the global phenomenon Provence rosé would become. And then in the last two decades, Minuty defined the vision for and led the unbelievable growth in Provence rosé around the globe.