While quarantined at home, Alder Yarrow reflected on his experience at the Wine & Spirits Top 100 Tasting event this past fall in San Francisco. He highlighted the 100 most memorable wines he tasted, including VINTUS and VNY producers: Champagne Bollinger R.D. 2004 and Special Cuvee, Guigal Condrieu La Doriane 2017 and Crozes-Hermitage 2015, as well as Cobb Wines' Doc's Ranch Chardonnay 2017 and Diane Cobb Coastlands Vineyard Pinot Noir 2016. Read the full write up and list of wines HERE.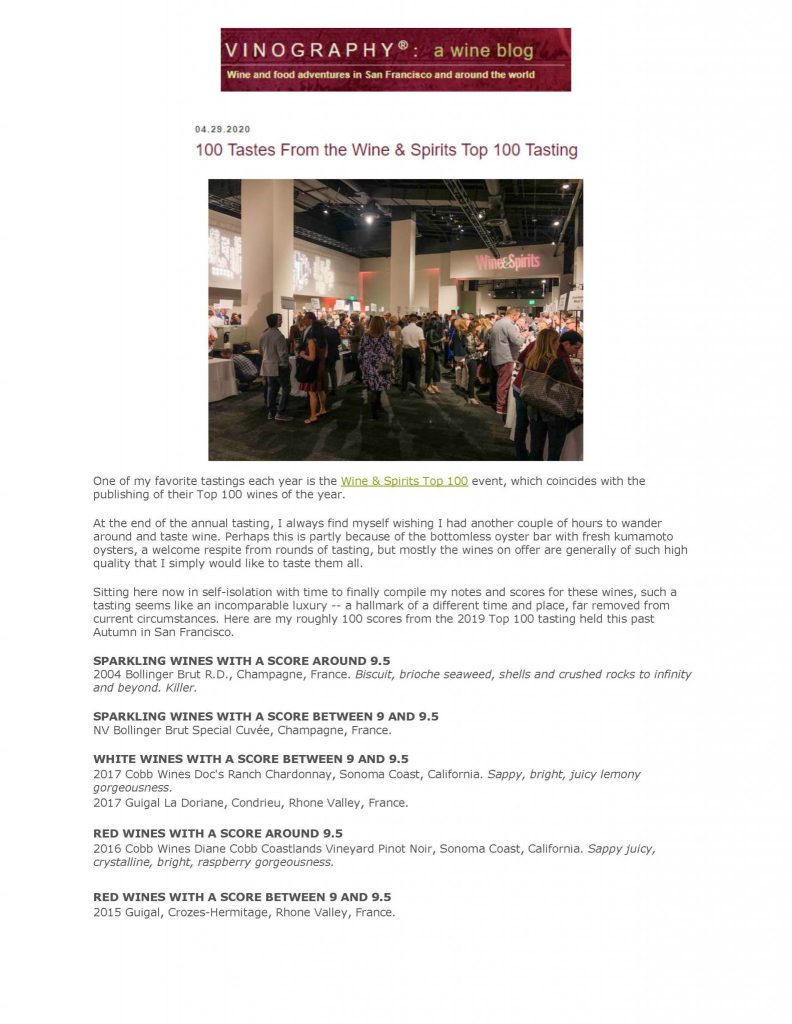 Champagne, France

Bollinger is one of the rare Grande Marques that's still family owned. Known for its rich, elegant and polished style of Champagne, their outstanding wines are the result of rigorous attention to detail and incredibly labor-intensive practices that few houses are willing to undertake. Underscoring its excellence, Bollinger has remained British secret agent James Bond's Champagne of choice since 1973.

Sonoma Coast, California

In 1989, David Cobb planted the Coastlands vineyard that became well known through wines made by Hirsch and Williams Selyem. Though the original plan for Coastlands was simply to sell grapes to a few artisan vintners, David's son Ross had a different vision for the exceptional fruit. In 2001, Ross crafted 130 cases of Cobb Wines' inaugural Coastlands Vineyard pinot noir. Since then, Ross has taken the helm and Cobb Wines has evolved to include four other hand-tended, independently owned vineyards on the Sonoma Coast. Though these vineyards share certain essential Sonoma Coast characteristics, they each have individual soil types, subtly different microclimates, and unique combinations of pinot noir selections. Ross's wines have become heralded the country over as benchmarks for elegance and nuance from the Sonoma Coast.

Rhône Valley, France

The more you learn about the Guigal family, the more astounding becomes their story.  Their wines are the benchmarks for every Rhone appellation, and over the last thirty years they have become arguably the most lauded producer in the world.  Year after year the Guigal family produces wines of exceptional quality that in all classes offer exceptional value.