Vinepair reasons that, as the most popular red grape varietal in the U.S., it can be intimidating to pick out a great bottle of Cabernet Sauvignon at a reasonable price point. They've come to the rescue by offering a list of 25 top recommendations to look for this year, including Chateau Montelena Napa Valley Cabernet Sauvignon 2016.
The publication offers great context about Montelena's style in comparison to many other cabernets out there. A couple of our favorite excerpts include this insight, "The power of this wine lies in the depth of fruit and well-integrated tannin, forming a confident structure. The elegance resides in the vibrant acidity winding through the wine, allowing you to experience the classic aromas of Cabernet Sauvignon: plum, blackberry, and cracked black pepper. " Read the full review HERE.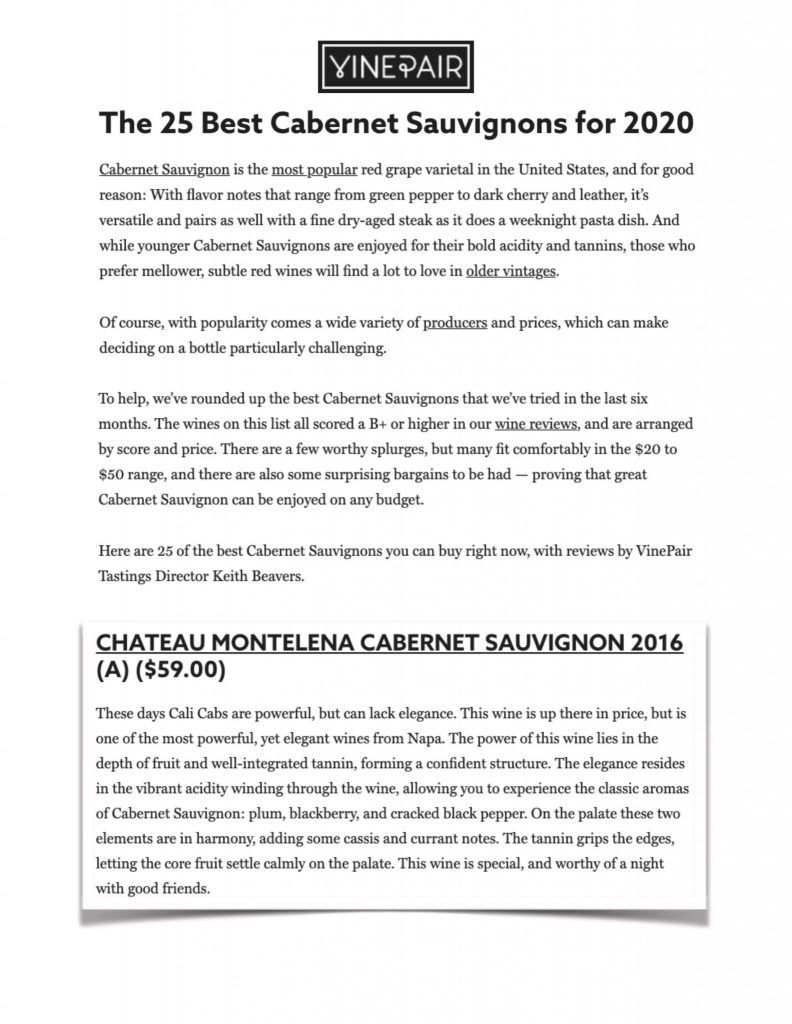 Chateau Montelena

Napa Valley, California

The Napa Valley Cabernet Sauvignon is a medium-bodied wine offering notable raciness up front, compelling freshness and depth of flavor. The earthy, complex and concentrated Cabernet Sauvignon is softened by the judicious addition of Merlot. This is a wine that delivers immediate pleasure upon release.
Calistoga, Napa Valley, California

In 1976 Chateau Montelena put California at the forefront of the wine world. That year a who's-who of the French wine establishment gathered in Paris for a blind tasting of French and American wines. When the scores were tallied, the top-ranking white wine was Chateau Montelena's 1973 Chardonnay. Montelena today continues to be a quality benchmark in Napa Valley, producing some of the finest Cabernet and Chardonnay in California.