Forbes columnist and major gin enthusiast Karla Alindahao has published "Superb Spirits: the Best Gins to Stock Up on This Year (and Beyond)," which offers an entertaining look into how her love of gin developed and 6 best in class bottles, including GINRAW! Karla provided great insight on how cofounders Roger Burgués and Lluís Jáuregui wanted to "develop a first-rate spirit that catered to the discriminating tastes of Barcelonians, who are known for their ültra-refined palates."  She continues, "a master perfumer, a chef, a sommelier, and mixologist were involved" to create the first gastronomic gin from Barcelona, "As was a low-temperature distillation machine called the Rotaval—developed in Spain, of course." Read the full story HERE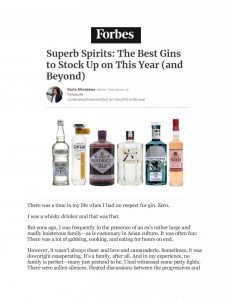 Ginraw

Barcelona, Spain

Ginraw is a super-premium gastronomic gin that encompasses the avant-garde culinary and design creativity of its home city of Barcelona.  It's a masterpiece of collaboration between four masters of their craft: chef, sommelier, mixologist and master parfumeur. Its small batch distillation is a harmony between tradition and innovation through both the use of copper pot stills and the revolutionary use of Rotaval, a low-temperature distillation machine developed by one of the leading restaurants of molecular gastronomy in Spain. Each bottle is individually numbered, dramatically expressive and a crystal-clear precision of aromatic character, personality and body.
Barcelona, Spain

Ginraw is a super-premium gastronomic gin from Barcelona. It's produced with the finest botanicals, individually sourced and harvested fresh and in season from their top growing locations. They use a unique distillation process that combines the traditional method of single batch copper still distillation with the latest gastronomic techniques in low-temperature distillation using a Rotaval. Madness, perfection, talent, gastronomy and soul epitomize Ginraw!