The Washington Post's wine columnist Dave McIntyre has an eye towards spring with his latest column, "At just $11, This Portuguese Rosé Is your Shortcut to Spring."  He writes about some of the 2018 rosés that are landing on shelves, refreshing whites and a couple delicious reds, including the Ponzi Vineyards 2017 Pinot Gris and E. Guigal 2015 Cotes du Rhone Rouge. He boldly notes that Ponzi's Pinot Gris is always one of his favorites from Oregon and that the 2017 vintage is gorgeous. Of the Guigal, he explains that the winery is one of the premier producers in the Northern Rhone Valley and that the entry level Cotes du Rhone in the south "anchors an exceptional lineup that includes Crozes-Hermitage and Cote Rotie, among other appellations." Read the full column here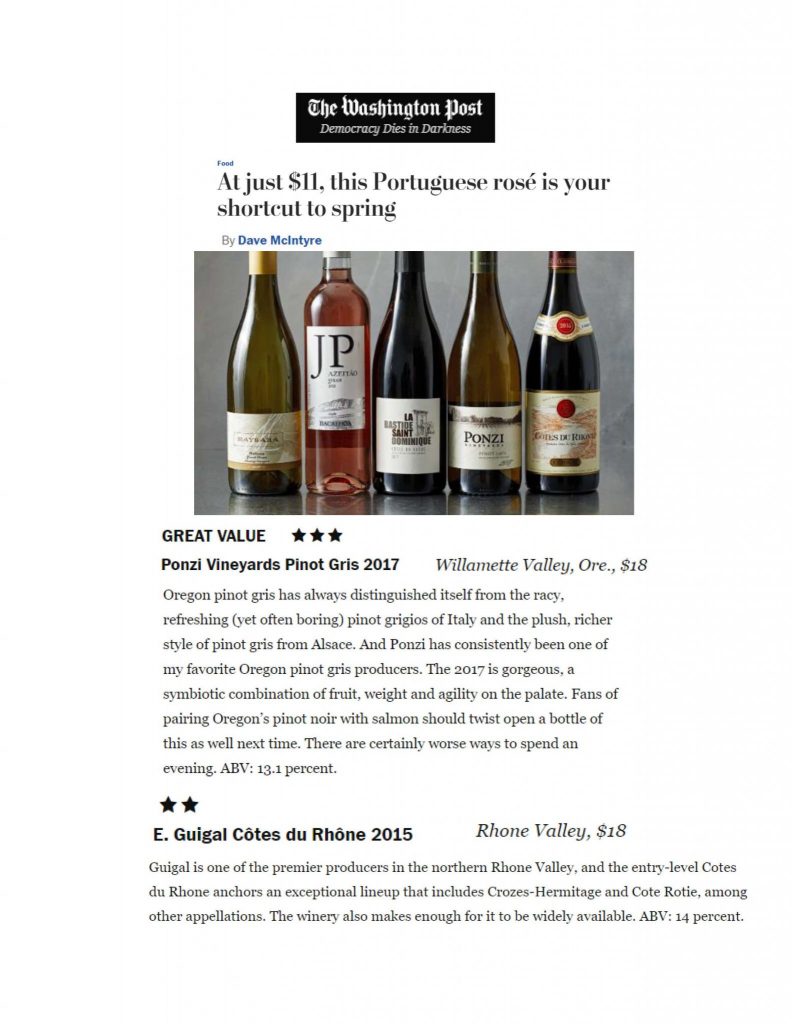 E. Guigal

Cotes du Rhone

Given that this particular wine can be the introduction to the entire Rhône Valley for a drinker, as well as the position they occupy in the Rhône, it is not enough for the Guigals to make a good Côtes du Rhône. They are relentlessly driven to produce a distinctive and outstanding wine that drives interest in exploring the entirety of the Rhône.

Ponzi Vineyards

Willamette Valley

One of the original and most recognized Oregon and U.S. Pinot Gris producers, Ponzi was a major influence in establishing Pinot Gris as the first quality white grape variety in Oregon. Ponzi's Pinot Gris is an irresistably aromatic and expressive wine, and serves as a first encounter for many wine drinkers with Oregon wines and the Ponzi estate.
Chehalem Mountain AVA, Willamette Valley, Oregon

Dick and Nancy Ponzi helped put Oregon on the map in the United States and the world, and the Ponzi family has worked continuously for over 50 years leading and innovating in the region and, in the case of Pinot Noir, across the country and indeed the world. Today winemaker Luisa Ponzi continues her work of the last 30 years with the family of Champagne Bollinger, which acquired Ponzi Vineyards in 2021.

Rhône Valley, France

The more you learn about the Guigal family, the more astounding becomes their story.  Their wines are the benchmarks for every Rhone appellation, and over the last thirty years they have become arguably the most lauded producer in the world.  Year after year the Guigal family produces wines of exceptional quality that in all classes offer exceptional value.