The Tribune Live, the online edition for the regional Pittsburgh newspaper, has featured the Guigal Côtes du Rhône Rouge in its latest wine column. In the story, "4 Côtes du Rhône red wines to try," wine writer Dave Desimone "highly recommends" the 2015 vintage from Guigal. He goes into great detail, explaining "the Guigal family offers a classic red blend, with a predominant percentage of syrah adding structure and extra freshness…Aging in large, neutral foudre casks allows the wine to mellow and round into easy drinking before bottling." Of the wine itself, he ascertains that the "sweet black cherry fruit melds with black pepper and smoked meaty notes," and suggests enjoying with skirt steak marinated with red wine and shallots. Read the full story and write up here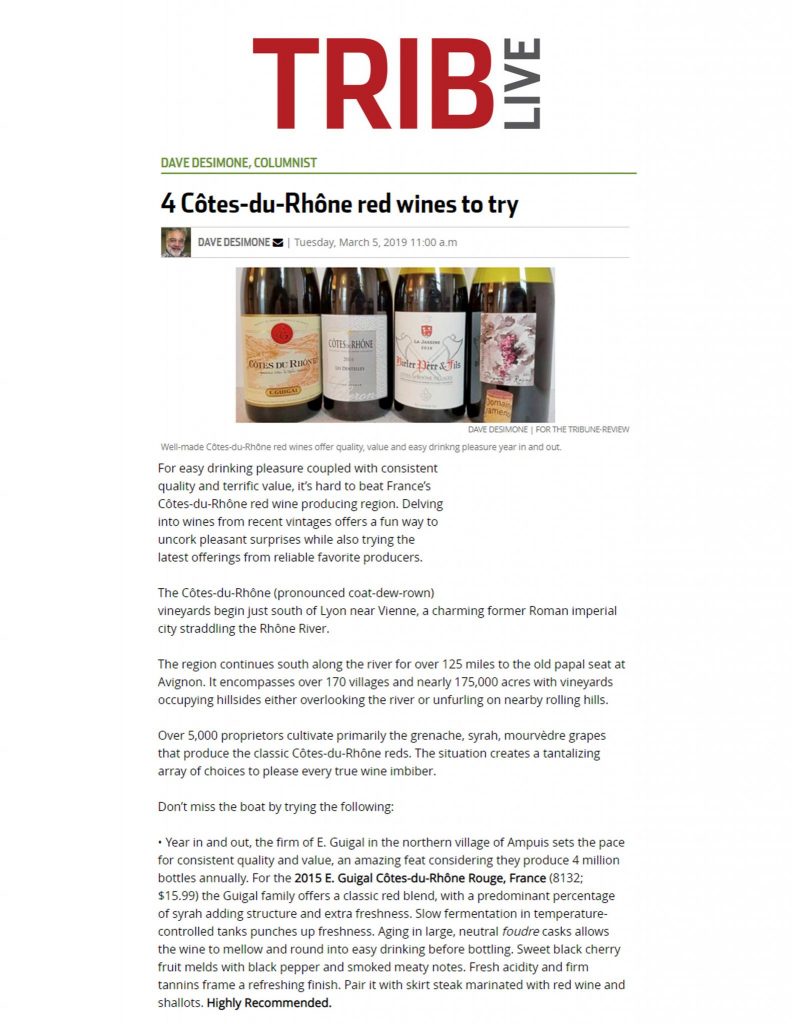 E. Guigal

Cotes du Rhone

Given that this particular wine can be the introduction to the entire Rhône Valley for a drinker, as well as the position they occupy in the Rhône, it is not enough for the Guigals to make a good Côtes du Rhône. They are relentlessly driven to produce a distinctive and outstanding wine that drives interest in exploring the entirety of the Rhône.
Rhône Valley, France

The more you learn about the Guigal family, the more astounding becomes their story.  Their wines are the benchmarks for every Rhone appellation, and over the last thirty years they have become arguably the most lauded producer in the world.  Year after year the Guigal family produces wines of exceptional quality that in all classes offer exceptional value.