Dog Point Chardonnay 2016 (95 Points), Errazuriz Pinot Noir Aconcagua Costa 2017 (94 Points), and Petrolo Torrione 2016 (95 Points) were all featured in James Suckling's list of 100 Best Wines Under $30. Read the full story here.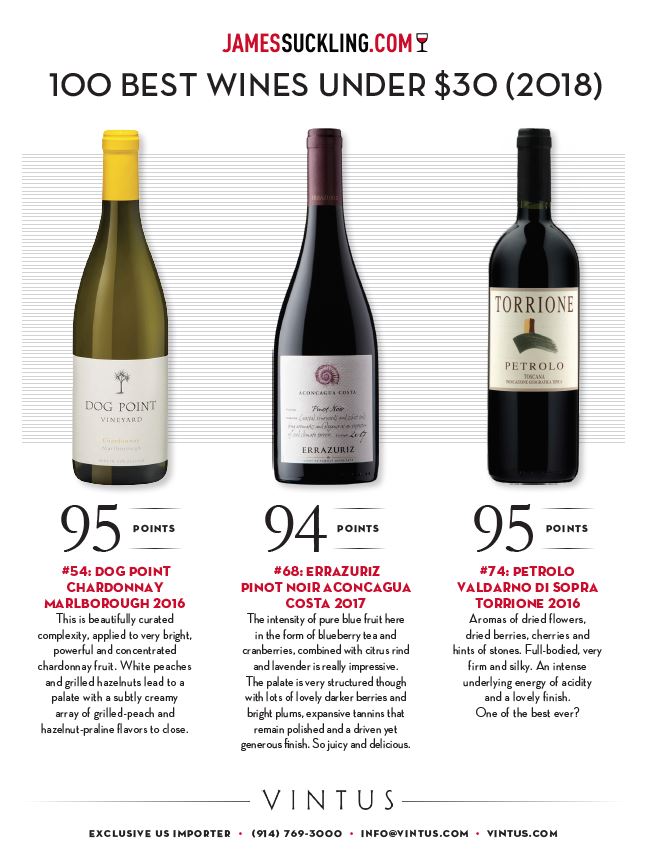 Petrolo

Val d'Arno di Sopra DOC

Torrione marks the beginning of the Petrolo's quality revolution. It is considered to be the true identity of Petrolo, made with a blend of grapes from all of the estate's vineyards.

Dog Point Vineyard

Several influential voices in the wine industry believe that in time Chardonnay may prove New Zealand's single highest achievement. All three of the Dog Point wines fermented in barrel are small in production, but the Chardonnay is the smallest, and and times indeed the most dazzling.

Petrolo

Val d'Arno di Sopra

Torrione is made primarily from Sangiovese grapes, both those that come from historic vines of the 1970s and ones more recently planted with high density. The yield per plant is notably restricted, allowing a concentration of all the noble components of the grape, fundamental for the full-bodied character of this wine. The fruit intensity and its black character make it a comparison to Brunello at several times the price.
Val d'Arno di Sopra, Tuscany. Italy

Petrolo is the definition of a cult winery, with an owner and a story that have helped create its legendary status. While the estate's benchmark wine, the Merlot cru Galatrona, deservedly receives fireworks in the press and is part of the history of Tuscany's quality revolution in the late 1980s and 1990s, the winery's two other standouts, Torrione and Boggina, are an equally thrilling success - Sangiovese from a special and virtually unknown appellation bordering Chianti Classico that today produces wines of distinct regional identity.

Aconcagua Valley, Chile

Errázuriz is recognized as perhaps the single top quality producer of Chilean wines, within recent years alone Eduardo Chadwick, President, named Decanter Man of the Year 2018, and the winery awarded Best Chilean Winery 2017 by Robert Parker's Wine Advocate.

Marlborough, New Zealand

Almost since its inception, Dog Point  has been recognized as among the very top (arguably the very top) wine producers in New Zealand.  Their two very different Sauvignon Blancs, their Pinot Noir, and their Chardonnay are all wines of astounding quality and complexity not just in the context of New Zealand wines, but globally.