Glamour, an online lifestyle outlet for contemporary American women, featured Finca Decero 2015 The Owl & The Dust Devil in their roundup "Wines Under $30 That'll Make It Seem Like You Know a Thing or Two." Editor Anna Moeslein notes "Drink if you like black cherries and 'Harry Potter.'  Pair with a filling meaty dish, like brisket or pot roast." We give her extra points for the creative liberties with the tasting notes! The inspiration for the story is that all too familiar feeling when you're tasked with bringing wine to an event, arrive at the wine shop and get extremely overwhelmed and resort to picking up a bottle in your price point with a nice looking label – now you can request The Owl & The Dust Devil or one of these other quality-driven, affordable wines by name. Read the full list of recommendations here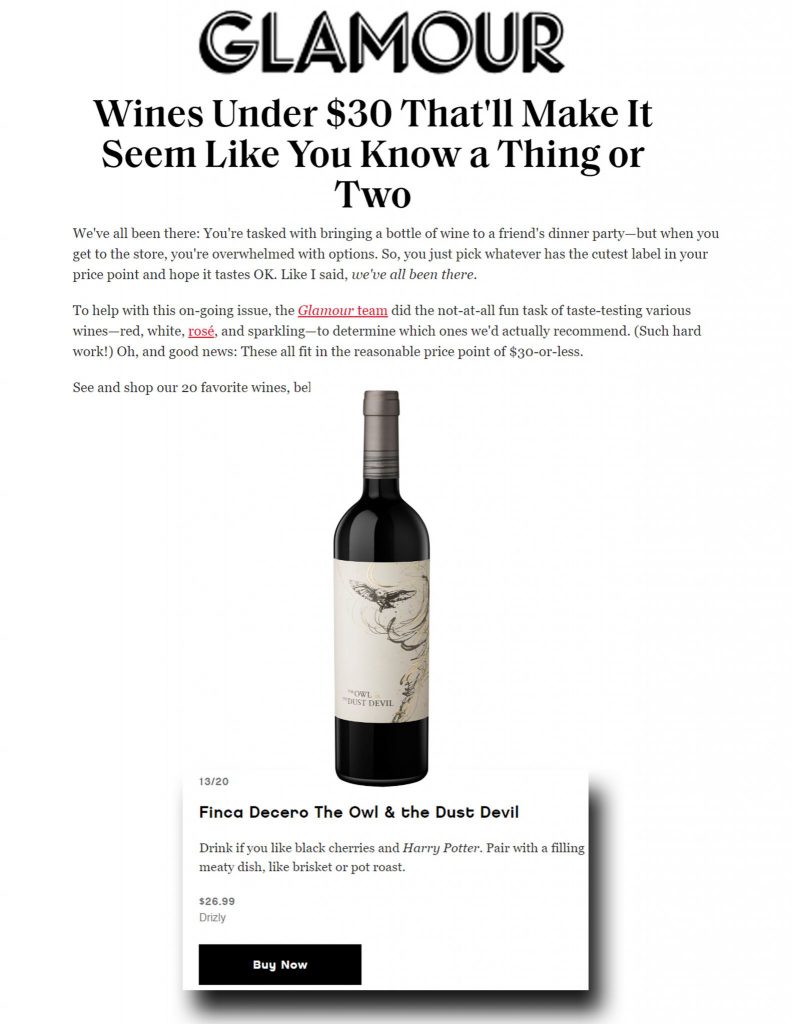 Finca Decero

Agrelo, Mendoza, Argentina

The Owl & The Dust Devil represents the wild side of Finca Decero, an exceptionally expressive and intense red blend that has as its core some of the specialties of Finca Decero. Its impact on the palate is matched by its groundbreaking Virtual Reality packaging.
Agrelo, Mendoza, Argentina

Finca Decero has become recognized not only for having one of the highest quality vineyards in all of Mendoza, but also for catapulting into an elite group of the most highly regarded producers in Argentina. The wines all come from the single Finca Decero vineyard, and the winery's focus is entirely quality focused.