Rare has kicked the art of pairings up a notch with their latest story, "7 of our Favorite Christmas Movies and Wine Pairings." There is something festive about enjoying a glass (or bottle) of wine with a classic holiday movie – especially if it happens to be snowing outside. Greg Lambrecht, wine expert and founder of Coravin, the wine preservation system, has gone to the task of recommending wines for the perfect movie-pairing experience. He suggests enjoying a bottle of Chateau Montelena Chardonnay with the iconic film, "It's a Wonderful Life." Of the wine, he adds "A venerable wine from an acclaimed producer that makes you feel like you've swallowed the moon and 'moonbeams are shooting out of your fingers and toes and the ends of your hair.'" Read the full list here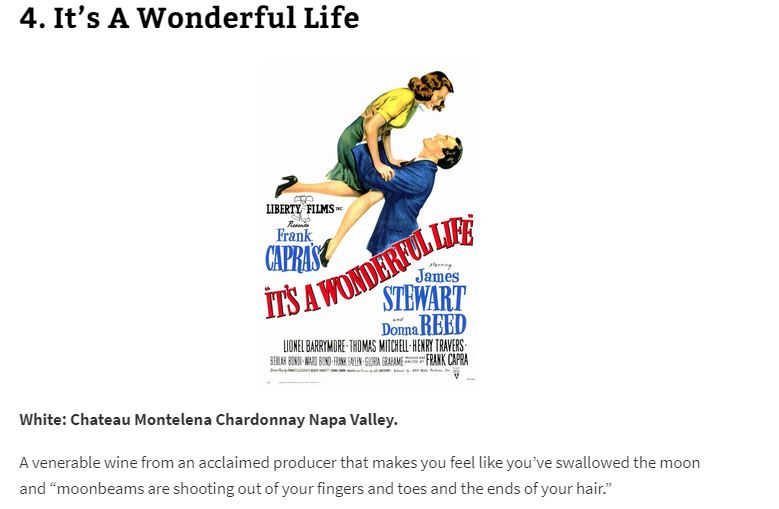 Chateau Montelena

Napa Valley, California

A true icon. The Napa Valley Chardonnay is the wine that put Chateau Montelena and Napa Valley at the forefront of the wine world in 1976, in what is now memorialized as "The Judgment of Paris." To great disbelief, the Chateau Montelena Napa Valley Chardonnay was the top-ranking wine against four white Burgundies and five other California Chardonnays. And as they say, the rest is history.
Calistoga, Napa Valley, California

In 1976 Chateau Montelena put California at the forefront of the wine world. That year a who's-who of the French wine establishment gathered in Paris for a blind tasting of French and American wines. When the scores were tallied, the top-ranking white wine was Chateau Montelena's 1973 Chardonnay. Montelena today continues to be a quality benchmark in Napa Valley, producing some of the finest Cabernet and Chardonnay in California.