We always look forward to Worth Magazine's gift guide, so we are thrilled that Champagne Bollinger R.D. 2004 is featured in the publication's annual luxury gift guide online and in print! Contributor Ken Rivadeneira elaborated on this expression by adding that it is made "using grapes from only select grand cru and premier cru villages and aged for 13 years, the Bollinger R.D. 2004 is an exceptional vintage of this limited expression of Champagne." The bottle is featured on the upper left, standing in the company of some of the great wines of the world. See the online version here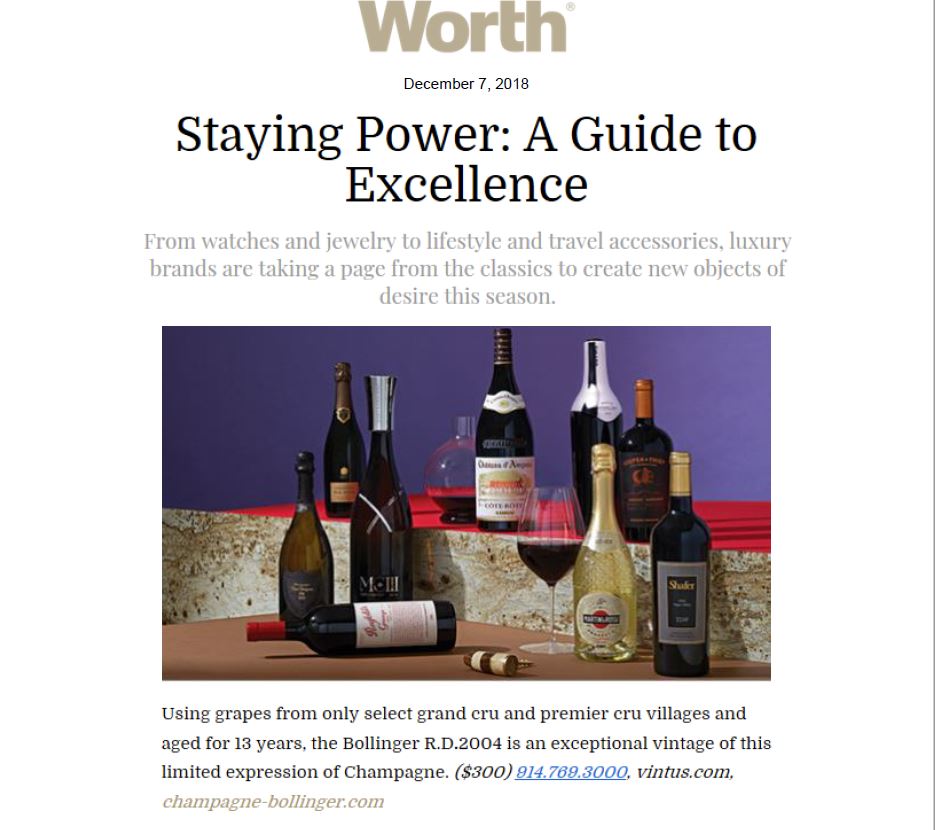 Champagne Bollinger

Champagne, France

A small revolution in the world of Champagne. In 1967, Bollinger releases R.D. 1952.  There is no comparable Champagne on the market at the time. This bold and brilliant Champagne takes the pillars of what makes Champagne Bollinger so unique, and pushes them to their ultimate level. It is, very simply, a masterpiece. 
Champagne, France

Bollinger is one of the rare Grande Marques that's still family owned. Known for its rich, elegant and polished style of Champagne, their outstanding wines are the result of rigorous attention to detail and incredibly labor-intensive practices that few houses are willing to undertake. Underscoring its excellence, Bollinger has remained British secret agent James Bond's Champagne of choice since 1973.