Lonny, a lifestyle news website that covers home design and decorating, featured Finca Decero's The Owl & The Dust Devil in their roundup "Gift Guide: The Techie." Editor Shelby Wax notes "Bringing a bottle of wine to a party is a classic hostess gift.  But if your friend is a fan of tech, we recommend giving them this unique blend.  Not only is the wine great, but you can use AR technology via a dedicated app to animate the bottle for an extra cool experience."  Read the full story here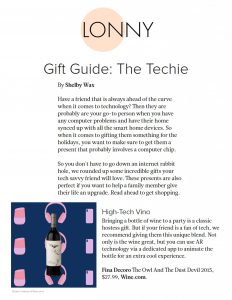 Finca Decero

Agrelo, Mendoza, Argentina

The Owl & The Dust Devil Icon Blend represents the wild side of Finca Decero, an exceptionally expressive and intense red blend that has as its core some of the specialties of Finca Decero. Its impact on the palate is matched by its groundbreaking Virtual Reality packaging.
Agrelo, Mendoza, Argentina

Finca Decero has become recognized not only for having one of the highest quality vineyards in all of Mendoza, but also for catapulting into an elite group of the most highly regarded producers in Argentina. The wines all come from the single Finca Decero vineyard, and the winery's focus is entirely quality focused – the varietal Malbec and Cabernet Sauvignons they produce can easily be compared to wines selling for twice the price. These are serious wines that moreover showcase the best of Argentina: a beautiful mix of purity and elegance.