Decanter wine columnist Elin McCoy recounts a very special tasting experience of Calistoga's Chateau Montelena, led by Master Winemaker Bo Barrett himself. In the story, "Chateau Montelena: Profile & Top Wines," she provides historical context of the winery's significance – leading with the iconic Judgment of Paris tasting where the winning wine in 1976 was Montelena's Chardonnay – and then explaining Bo's father, Jim Barrett's dream to produce a Cabernet Sauvignon that would stand 'shoulder to shoulder with the great first growths of Bordeaux.'  He concluded this process would require at least 50 years.
Bringing this idea to life, this summer Bo hosted a retrospective "Dream Tasting" of 15 vintages of Cabernet (1974 to 2013) from the past five decades. All but the first two were Montelena's Estate Cabernet from its own vineyards, which debuted in 1978. There is a lot of great history and context about Montelena in this story. Elin notes "what stood out most, for every wine in the line-up, was a commitment to balance and restraint – the Calistoga location helps. Of Napa Valley's AVAs, it has the most extreme day-to-night temperature swings and cool afternoon Pacific breezes through the Chalk Hill Gap. This lets the grapes retain acidity and develop flavour without getting too ripe. Surely that balance and acidity are reasons why the wines had aged so well. (Plus all were poured from magnum.)" She added "For me the standouts were 1994, 2005, and 2013."
Read the full story and description of 50 decades worth of wines here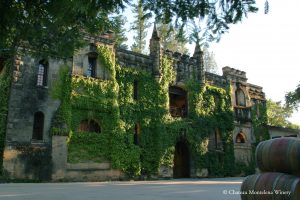 Chateau Montelena

Calistoga, Napa Valley, California

The Estate Cabernet Sauvignon is Chateau Montelena's flagship wine and a quality icon of Napa Valley. The winemaking team works obsessively and passionately with each vintage to capture the best expression of their historic terroir. This is a show-stopper that reveals the perfect blend of flavors, aromas and textures to reach the pinnacle of balance.

Chateau Montelena

Napa Valley, California

The Napa Valley Cabernet Sauvignon embodies the balance of Montelena, classic "old-world" structure with ripe California fruit.  It is crafted from fruit coming from the Montelena vineyard and several prime neighboring vineyards, all in the Calistoga AVA. The Montelena Napa Cabernet is a wine that delivers immediate pleasure upon release, but in Montelena style, while age and develop beautifully.
Calistoga, Napa Valley, California

In 1976 Chateau Montelena put California at the forefront of the wine world. That year a who's-who of the French wine establishment gathered in Paris for a blind tasting of French and American wines. When the scores were tallied, the top-ranking white wine was Chateau Montelena's 1973 Chardonnay. Montelena today continues to be a quality benchmark in Napa Valley, producing some of the finest Cabernet and Chardonnay in California.