The Washington Post's wine columnist, Dave McIntyre, is encouraging readers to experiment with port this season – and specifically to explore alternatives to vintage offerings! He understands that most people purchase wine for immediate consumption, because they don't have the space to age wines in their cellar for decades or prefer to purchase something for immediate pleasure. So with that, McIntyre continues that sticking with vintage port isn't realistic for everyone because it is too scarce and pricey for every day enjoyment. Also, there is less of it than there used to be as several producers are moving more towards estate fruit than purchasing, which reduces quantities.  He adds, "luckily for us, there are other styles of port, more affordable and easy to find, that we can enjoy anytime." He provides quick overviews on vintage ports, ruby ports, late-bottled vintage, tawny ports and white ports. In terms of ruby ports, he recommends Quinto do Noval Black NV, saying "this is one of my favorite ruby ports. It's game on, with dark fruit and chocolate flavors bursting exuberantly from the glass. ABV: 19.5 percent." Read his full story here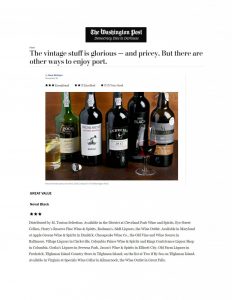 Quinta do Noval

Douro Valley, Portugal

The style of Noval BLACK is entirely about emphasizing the quality of this fruit, through use of estate fruit, gentle handling (including foot treading), and vinification aiming for transparency.  You could say it is the most wine-like of ruby reserve ports, and that is the secret to its flexibility, in cocktails, chilled, and even on ice.
Douro Valley, Portugal

One of the oldest port houses, Quinta do Noval is also arguably the greatest. It is unique among top port houses in that most of the ports are made from estate-grown fruit and, notably, all of the vintage Noval wines are from the single Quinta do Noval vineyard.