Wine writer Lauren Mowery's latest piece for Wine Enthusiast introduces readers to new-world regions that are producing serious wines that can stand up to some of the greatest old-world wines out there. In the story, "Emerging New-World Destinations for Wine Lovers," Mowery highlights the Willamette Valley in Oregon as a great destination, producing stellar wines that can rival those of Burgundy, France. She includes Ponzi Vineyards as the lead winery within the section, elaborating that it is also a multi-generational family run winery with Luisa Ponzi as its winemaker and Maria Ponzi leading the day to day. Read the full story here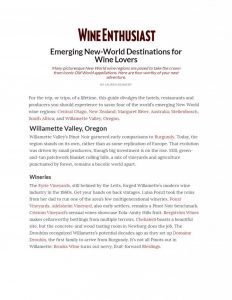 Chehalem Mountain AVA, Willamette Valley, Oregon

Dick and Nancy Ponzi helped put Oregon on the map in the United States and the world, and the Ponzi family has worked continuously for over 50 years leading and innovating in the region and, in the case of Pinot Noir, across the country and indeed the world. Today winemaker Luisa Ponzi continues her work of the last 30 years with the family of Champagne Bollinger, which acquired Ponzi Vineyards in 2021.