The Wine Buzz, a popular wine blog in Ohio, has kicked off the holiday season with a festive "Bring On The Sparklers!" post that rounds up sparkling wines from several wine regions around the world. A round up of sparkling wine could not be complete without recommendations from Champagne, France, including two of our producers. Champagne Ayala ($49.99), offering "nutty brioche aroma with a hint of pear; very dry and toasty with spicy notes," is recommended alongside Champagne Bollinger ($79.99), "toasty walnut and fresh-fig aroma; bright effervescence and elegant balance with a hint of pear peel." Also in France, they've recommended Langlois Crémant de Loire Brut Rosé ($29.99) as a terrific sparkling wine with unbelievable value for the price point offering "Inviting cherry/vanilla aroma; vivid flavor and racy acidity with a hint of cherry skins and raspberry." Read the full list of recommendations here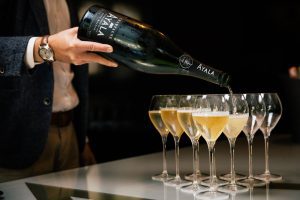 Champagne Bollinger

Champagne, France

From vineyard to bottling, Special Cuvée sees such an extraordinary level of care and attention, it is difficult to place within the non-vintage or, really, any Champagne category. It is a Champagne that stands apart. Within one bottle, all the complexity of flavour, texture and pleasure that Champagne can offer. Special Cuvée is truly a journey of devotion from Bollinger.

Champagne Ayala

Champagne, France

Brut Majeur is the epitome of a non-vintage brut from a great, historic House and is the finest ambassador for the House's freshness and elegance. A blend of Chardonnay, Pinot Noir and Pinot Meunier grapes, coupled with extended aging in Ayala's cellars and a low dosage, make this wine suitable for any occasion.

Langlois-Chateau

Loire Valley, France

For their Crémants, Langlois-Chateau has an intensely terroir-focused approach of drawing the best characteristics from 6 distinct vineyard areas and soil types in order to create complex and refined wines. Langlois' Crémant Rosé is hand-picked from 2 specific terroirs with chalky-clay soils perfectly suited to Cabernet Franc and Pinot Noir.
Champagne, France

Bollinger is one of the rare Grande Marques that's still family owned. Known for its rich, elegant and polished style of Champagne, their outstanding wines are the result of rigorous attention to detail and incredibly labor-intensive practices that few houses are willing to undertake. Underscoring its excellence, Bollinger has remained British secret agent James Bond's Champagne of choice since 1973.

Champagne, France

Ayala is one of the most exciting stories in Champagne today, almost the definition of a boutique Champagne producer. Independently owned, a small, young and dynamic team handles every step of production from grape reception to labeling in their jewel of a facility with incredible precision, crafting Chardonnay-focused wines that deliver immense pleasure, freshness, and elegance.

Loire Valley, France

Langlois-Chateau has a rich history as one of the leading producers in the Loire Valley. Their Cremants are produced with standards far beyond the appellation requirements and even beyond Champagne AOC standards. The result is Méthode Champenoise wines of incredible finesse. The still Sancerres are equally notable and are benchmarks for the appellation, with brightness, intensity, depth and minerality.