In wine writer Edward Deitch's latest column for Vinepair, he describes a recent pairing he chose for a homemade seafood stew. While he admitted that he's enhanced his spicy recipe variations with Rieslings and Gewürztraminers with a touch of sweetness in the past, he wanted to give the Ponzi Vineyards 2017 Pinot Gris a try.
He offered rave reviews. Noting that "Since the wine was fermented in stainless steel tanks without barrel aging, there was no oak influence, as there would have been with, say, a Chardonnay. This meant that there would be no clash of tastes with oak flavors and the tomatoes, for example. But would the wine hold up to the strong spices and the acidity of the tomatoes?" He continued, "in fact, this dry white was up to the job nicely with fresh acidity and just a touch of residual sugar that complemented the spices. Beyond that, there were notes of pear, apricot, honeydew melon, and citrus rind, with a hint of wet stone — a charming and delicious wine in and of itself and a highly successful pairing with my simple but full-flavored stew." Read his full story and review here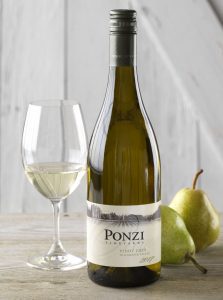 Ponzi Vineyards

Willamette Valley

One of the original and most recognized Oregon and U.S. Pinot Gris producers, Ponzi was a major influence in establishing Pinot Gris as the first quality white grape variety in Oregon. Ponzi's Pinot Gris is an irresistably aromatic and expressive wine, and serves as a first encounter for many wine drinkers with Oregon wines and the Ponzi estate.
Chehalem Mountain AVA, Willamette Valley, Oregon

Dick and Nancy Ponzi helped put Oregon on the map in the United States and the world, and the Ponzi family has worked continuously for over 50 years leading and innovating in the region and, in the case of Pinot Noir, across the country and indeed the world. Today winemaker Luisa Ponzi continues her work of the last 30 years with the family of Champagne Bollinger, which acquired Ponzi Vineyards in 2021.